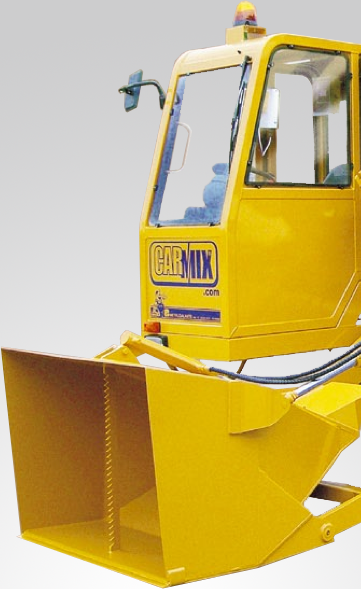 CARMIX
What is CARMIX?
CARMIX is a revolution in producing high quality concrete. CARMIX is a 4x4 self loading mobile concrete mixer, that is able to produce concrete efficiently, economically, with quality that is not achievable by conventional methods.
CARMIX is easy to operate, and an ideal solution to produce concrete anywhere needed, whether it is in most congested downtown area, in the middle of sea,or in most remote island.
Just Supply the Material, and Let CARMIX Do the Rest
Loading
The correct mixing ratio is the key to produce high quality concrete. CARMIX is equipped with volumetric shovel to loading material with precise measurement. Every full shovel contains 500 litre of material (type 3500/ 3.5). CARMIX is also equipped with a waterflowmeter to measure the added water into mixture. In addition, CARMIX can optionally equipped with electronic weighting system for even precise measurement.
Mixing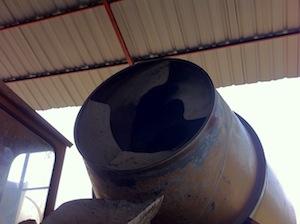 The uniformity of mixture is critical to produce concrete with perfect strength distribution. The mixing drum of CARMIX uses double screw 4mm tick "T" type. Also, CARMIX is capable to mix and deliver the paste at the same time thus the time required to mix and deliver the concrete paste is shorter.
Delivery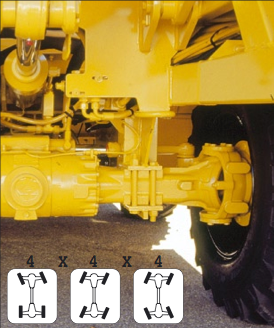 CARMIX is equipped with 4x4 transmission and off road tires, so it is able to deliver concrete through difficult terrain. The 3.5 T4 type is equipped with 4 wheel steering, thus it has smaller steering radius. Ideal weight distribution allows CARMIX to climb fully loaded over 30° gradients. No place is too difficult for CARMIX.
Discharging
Concrete pouring is crucial in every construction process. In pouring stage, concrete delivery and pouring is not allowed to stop. This requires careful management from concrete production point of view, like scheduling, queue to pouring point, and workspace planning. CARMIX has 300° slew-able drum, with 360° pouring capability, and simplify pouring process. Drum can be tilted up hydraulically, thus speed up the pouring process.
Why CARMIX

?
High quality concrete without additives on site.
Quality and slump is easily controllable.
The amount of needed operators is just 2 people, with additional 3 cement sack openers.
With 360° pouring capability and 4x4 transmission and off road tires, CARMIX is capable to deliver concrete with minimal space.
Just 1 unit needed for all concrete production and delivery process.
CARMIX Work Procedure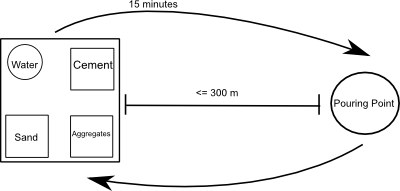 The above diagram depicts CARMIX basic procedures in concrete production as follows:
High quality material which includes cement, sand, split, and water, available in project site with no more than 300 meters from concrete pouring point.
Mix design (the composition of each concrete ingredients) has been made by concrete laboratory as the required specification.
First, CARMIX pumps water into the mixer drum as instructed by the mix design through its waterflowmeter. The amount of water can be increased or decreased to match the slump level the consultant desires.
Then CARMIX loads an amount of cement through weight or using cement sack with 50 Kg package each as required by mix design.
Then CARMIX loads an amount of sand and split (aggregates) using its volumetric shovel as required by mix design.
The mixing drum will mix the material for 15 minutes that can be done during travelling to the pouring point, then the resulting concrete mix is ready to be poured.
CARMIX for Hire
Cement concrete can be said as the most important material in any modern construction. The perfection of every concrete property really depends on the quality of material, correct production method, and correct curing process. In said process, we are distinct compared to our competitors.
We are proud for our zero complaint record on the quality of concrete made by Artha Nugraha. Our operators are toroughly trained to serve your concrete specification. Our mechanics are always ready to check up the condition of our equipments, so they will be always on peak condition during rental period.
Why Artha Nugraha
Our staffs are handy and trained, thus capable to deliver concrete according to mix design specification and consultant desire.
We always offer our equipment in peak condition.
Our concrete production process is transparent and easy to control on quality.
Our concrete is high quality.
We have experienced in high quality concrete process since 1990.
Tens of outstanding construction company have used our services and have been our loyal clients.
We offer to produce and supply concrete with CARMIX through rental contract.We also prepare our operators to meet your conrete requirements. Consult your concrete needs to us, and we will recommend the best suit your needs.
Available Units
Purchase and Price Quotation
For purchasing CARMIX and asking for price quotation, please contact us.